Post by ROXANNE FIRAAS WEASLEY on Jan 5, 2019 22:58:02 GMT -5
[nospaces][googlefont="Oswald:400"]
[attr="class","colors-of-the-sky"]
After living with her parents after school ended for a year (after failed plans to move in with her ex-fiance once he turned out to be a blood purist), a few months ago Roxy decided to set out on her own and moved into a flat with some existing roommates. I picture their flat being a lot like the loft in New Girl, and each flatmate having similar personalities to the characters. Doesn't have to be the exact same, just kind of similar dynamics. If you have an existing character that would fit a role, feel free to throw them in! Honestly, this is all pretty open, Roxy would just love to have her flatmates and some friends. (I wrote all of the descriptions using the pronouns of the characters in the show, but the genders of the characters are entirely up to you - though I would prefer Cece remain female or female identifying.)
[attr="class","box"]
[attr="class","header1"][attr="style","background-color:black;"]19. Sofia Tesfu. Female.
[attr="class","main-content"]
Roxy only moved into the flat recently, after living with her parents for a year after graduating from Hogwarts and starting on the British National team, too. She's still reeling from a broken engagement and trying to find her footing and her place in the world again. Much like Jess, Roxy has a bad habit of singing her thoughts aloud and tries to put a positive spin on everything. She has touched glitter in the past week and has some difficulties with boundaries. She's silly and struggles with responsibilities and being realistic. But don't let her fun-loving, cheerfulness fool you: Roxy can be downright vicious when provoked and has a hair-trigger temper. She enjoys attention and isn't afraid to speak her mind. Roxy has a strong moral compass and is staunch in her beliefs of right and wrong.
Quirky, fun, and sweet. Roxy is always willing to look at the bright side of any situation. But at the same time, she's not afraid to be herself, even if it means that it sets her apart from the group. Her friends are her family, and she loves them like crazy. (As an example of her steady, loyal, consistent nature, she has had the same best friend since first year.) She is also a very moral and ethical person, and has a soft spot for the underdog.
She's a little quirky, but her energy is contagious. Sometimes she bursts out into little songs about the things she's doing, herself, or the people around her. She's not afraid to put herself out there when it comes to everything. While her actions may sometimes be a little disastrous, she puts your heart into everything she does. Roxy never gives up and advocates for what she believes in persistently and passionately.

[attr="class","box"]
[attr="class","header1"][attr="style","background-color:900101;"]19. Open face. Female.
[attr="class","name"][attr="style","background-color:900101;"]Cece - reserved for Beanie
[attr="class","main-content"]
"Cece" and Roxy go way back. Like, first year of Hogwarts back. She was probably in Gryffindor with Roxy, though she could also have been a Ravenclaw, and is the more realistic of the two. She brings Roxy back to earth when she gets too flighty (in a loving way), and Roxy helps her not take things so seriously. These two are as close as sisters and would do anything for each other, and Cece is fierce and always up for a fight if it means defending those she loves. They've been through some tough times together, and always have each other's backs. Cece could live in the flat if you want, or she could live elsewhere. Mostly Roxy needs the close female friendship. This girl gang is strong even with just two members.
She is loving and protective of Roxy, but blunt, and gives good dating advice. Reasonable, charming, and tough, the grounded and realistic Cece is always there to offer advice to Roxy, the airy and childlike dreamer. Sometimes this advice might take the form of tough love, but there is no one else in Roxy's life who isn't afraid to say, "Please don't make me laugh at you." A true lioness, Cece loves to be the center of attention — and her wardrobe is always on point. She might be headstrong and straightforward, but she's also extremely loyal to the ones she loves the most. She will drop everything and come to Roxy's rescue any time Roxy needs it. Cece is badass, has a sass level that is through the roof and she will not take shit from anyone.
Sometimes she can come off as a little bit bitchy, but she would go to the worlds end to make sure her friends are taken care of. While at times her looks may blind people from her intelligence, she is witty and quick to pick skills up. She's a complete badass and never lets her fears drive her away from pursuing her passions.
[attr="class","box"]
[attr="class","header1"][attr="style","background-color:007515;"]19-24. Open face. Open gender.
[attr="class","name"][attr="style","background-color:007515;"]Schmidt
[attr="class","main-content"]
Schmidt likes to have control over his environment, and can't stand it when things spiral into chaos. (Which it always does, given the people he lives with.) He is a neat freak, and hates it when someone puts something where it doesn't belong or tries to do something in a way that isn't as efficient as he wants it to be. Schmidt also has a hard time making important decisions. He thinks about his options, and gets stuck in an endless loop of imagining the pros and cons of his choice. Even when he does make a decision, Schmidt endlessly overthinks it afterwards.
He considers himself 'top dog' and runs the loft. He has compulsive tendencies, and therefore prefers to do all of the interior designing, cooking, and cleaning to his standards. He is also very narcissistic about his appearance; he keeps a binder of photos modeling his own suits and owns a vast collection of hair product. Schmidt was extremely overweight in his childhood and throughout Hogwarts. While he has since lost the weight and gained muscle tone, it is still emotionally scarring for him.
While he often has his head in the clouds, he has a heart of gold. Yes, every once in a while he needs his friends to put him back into place with something like a douchebag jar, but his quirks are totally worth it. He may not have been the coolest kid growing up and tends to overcompensate with the lavish things in life, he tries to make sure everyone thinks he is top dog. Every now and then, he has a bit of a meltdown that leads to him full on screaming, but it tends to just amuse the people he's around. He acts confident, driven, and uptight. As he says of himself, using the third person, "Words that have never been used to describe Schmidt: 'spontaneous, flexible, easygoing.' I'm like a Marine." He has a certain manic charm, though, and things are always more interesting when Schmidt is around.
[attr="class","box"]
[attr="class","header1"][attr="style","background-color:004775;"]19-24. Open face. Open gender.
[attr="class","name"][attr="style","background-color:004775;"]Nick
[attr="class","main-content"]
Caught up in his own inertia, he's not that kind of guy that wakes up in the morning and makes a list of all of the things he needs to get done for the day. Nick is content to let the events of the day take shape around him, and doesn't have interest in excitement, drama, or change. He's a grumpy old man in a 20-something body. But even though he can be grouchy and argumentative, he really does care about his friends. He isn't outwardly demonstrative of his affection, but he loves his group of friends and would do anything for them.
He's steady and consistent. He doesn't have a great deal of forward momentum, and gets caught in a rut pretty quickly. Good thing his flatmates are there to push him out of his comfort zone, or he'd be content staying home all day. Stubborn, he is often convinced that his way is the best way. He is also incredibly quick to anger. Although he's predictable and routine-based, he's also very loyal. When there's tension in the loft, he often takes it upon himself to mediate and make sure that everything gets resolved.
Nick is an apathetic, socially inept, extremely sarcastic, and hilarious possible bartender (career is up to you) who has a keen ability for reading people's emotions although he can't seem to express his own. Nick is the most grounded of all the roommates. He is "good" at fixing things and hates spending money. Realistic and wise-cracking, Nick Miller appears the most "normal" out of the flatmates. He enjoys his sense of privacy and independence despite his inability to effectively function on his own (i.e. cleaning after himself and cooking.) His personality is best described by his passion for jerry-rigging anything in the apartment in order to save money and his tendency to stick himself within his roommates' drama while trying to avoid it at all costs. He is very loyal; he would drop everything if a friend was in need. Nick has also been known to get help from friends in dire enough situations (whether he wants it or not).
He is amusing, but also grumpy, sarcastic and lazy. Nick is not doing very much with his life, and he's usually fine with that. When asked about his profession, he'll probably stretch the truth about his accomplishments: "I've done things. I wrote half a book about zombies." Stubborn, loyal, and kinda lazy is how one would best sum up Nick. He also loves comfort food and can be a little jealous when it comes to the ones they love. He may not completely have his life together; he takes a path through life that is led by his gut, and while there are often bumps, he rides it out (not always gracefully), and tends to be an all around chill person. Once he loves somebody, he goes to great lengths to make sure they remain happy. When life seems a bit rough, or he's stuck in the middle of a disagreement, he tends to hide away or awkwardly moonwalk away from his problems.
[attr="class","box"]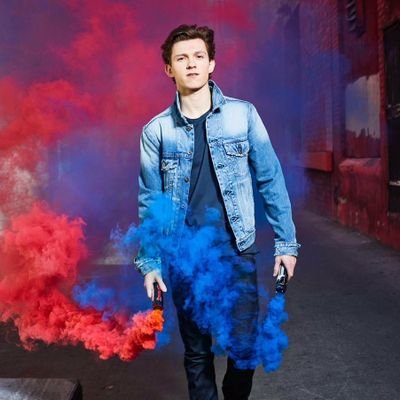 [attr="class","header1"][attr="style","background-color:F5E200;"]20. Tom Holland. Male.
[attr="class","main-content"]
He is content to go with the flow, and follow wherever the rest of the gang leads. Winston is compassionate, kind, and a loyal friend. He doesn't have huge reserves of self-confidence and can often be overshadowed (even dominated) by the stronger personalities in the loft. He is easygoing and even-tempered, though, which serves as a nice balance to the loft mates. He is caring and kindhearted, and terrific at making people feel safe and taken care of. Oblivious and goofy. Winston is the sweet yet often dopey one in the apartment. Despite his occasional intellectual shortcomings, his roommates often turn to him for words of advice. His childlike qualities, such as the fact that he believes in Santa Claus, make him an ideal companion for the cynical Nick and the aggressive Schmidt.
In the beginning, they thought he was the totally normal one, but bit by bit, he showed his quirky side until he's straight up eating dinner with his cat and taking matching pictures. All this aside, he's a totally fun loving person who seems to always have the answers (even though the way he gives them may be the weirdest form). His goofiness keeps the rest of the gang going. Winston is basically a puppy. He is adorable, loving and extremely caring when it comes to the people that he lives with and the g=people that he has crushes on. He may be really, really bad at pranks but he makes up for it in other ways. He is brave and trustworthy. He also has a huge heart that wants to make people happy. He may not like exercising and he may have an excuse for any type of physical labor but give him a tub on the roof of their apartment building and he is a happy camper.
[attr="class","box"]
[attr="class","header1"][attr="style","background-color:F5E200;"]19-24. Open face. Open gender.
[attr="class","name"][attr="style","background-color:F5E200;"]Coach
[attr="class","main-content"]
Unlike most of the other loft mates, Coach is strong, dominant, self-assured, and willing to take charge of any situation. He is charming and confident, and has a strong competitive streak. On the negative side, though, he can tend to be pretty self-centered and arrogant. Fortunately, his even-tempered friends are there to keep him balanced. He is super intense, and, no he probably can't handle a crying person, because it will just end with him yelling at them to stop. But, he's also intensely loving, even though he tries to pretend he's not. The walls he built up are pretty much just a facade to not let people see how incredibly loving he is. He is there to motivate his friends through everything and anything.
[attr="class","tempcredits"]CRAFTED BY
ALISHA
OF ADOXOGRAPHY
[newclass=".colors-of-the-sky"]width:610px;margin:0px auto;padding:2.5px;position:relative;[/newclass]
[newclass=".colors-of-the-sky .box"]width:300px;height:300px;position:relative;margin:2.5px;overflow:hidden;display:inline-block[/newclass]
[newclass=".colors-of-the-sky .box .header1"]width:260px;padding:8px 10px;background-color:#000;color:#fff;text-align:center;position:absolute;top:0px;z-index:1;margin:10px;font:13px Oswald;text-transform:uppercase;-webkit-transform: translateX(-310px);-o-transform: translateX(-310px);-moz-transform: translateX(-310px);transform:translateX(-310px);-webkit-transition: all 0.5s ease-in-out;-moz-transition: all 0.5s ease-in-out;-o-transition: all 0.5s ease-in-out;-ms-transition: all 0.5s ease-in-out;transition: all 0.5s ease-in-out[/newclass]
[newclass=".colors-of-the-sky .box .main-content"]width:260px;height:188px;background-color:#FFF;font:11px Helvetica;color:#000;border:3px double #ececec;padding:7px;text-align:justify;overflow:auto;margin:0px 10px;position:absolute;top:46px;z-index:1;transform:translateX(310px);-webkit-transform: translateX(310px);-o-transform: translateX(310px);-moz-transform: translateX(310px);-webkit-transition: all 0.5s ease-in-out;-moz-transition: all 0.5s ease-in-out;-o-transition: all 0.5s ease-in-out;-ms-transition: all 0.5s ease-in-out;transition: all 0.5s ease-in-out[/newclass]
[newclass=".main-content img"]width:auto!important;height:auto!important;position:relative!important;margin:2px;display:block[/newclass]
[newclass=".main-content::-webkit-scrollbar"]width: 10px;background-color:#fff[/newclass]
[newclass=".main-content::-webkit-scrollbar-thumb"]background-color:#ececec[/newclass]
[newclass=".colors-of-the-sky .box:hover .main-content"]-webkit-transform: translateX(0px);-o-transform: translateX(0px);-moz-transform: translateX(0px);transform:translateX(0px);-webkit-transition: all 0.5s ease-in-out;-moz-transition: all 0.5s ease-in-out;-o-transition: all 0.5s ease-in-out;-ms-transition: all 0.5s ease-in-out;transition: all 0.5s ease-in-out[/newclass]
[newclass=".colors-of-the-sky .box:hover .header1"]-webkit-transform: translateX(0px);-o-transform: translateX(0px);-moz-transform: translateX(0px);transform:translateX(0px);-webkit-transition: all 0.5s ease-in-out;-moz-transition: all 0.5s ease-in-out;-o-transition: all 0.5s ease-in-out;-ms-transition: all 0.5s ease-in-out;transition: all 0.5s ease-in-out[/newclass]
[newclass=".colors-of-the-sky img"]width:300px;height:300px;position:absolute;top:0px;left:0px[/newclass]
[newclass=".colors-of-the-sky .name"]width:260px;padding:8px 10px;background-color:#000;color:#fff;text-align:center;position:absolute;bottom:0px;z-index:1;margin:10px;font:13px Oswald;text-transform:uppercase[/newclass]
[newclass=".colors-of-the-sky .tempcredits"]margin:3px 0px;width:100%;text-align:center;font: 10px 'Oswald'; text-transform:uppercase;letter-spacing:2px;[/newclass]
[newclass=".colors-of-the-sky .tempcredits a"]font: 10px 'Oswald'; text-transform:uppercase;letter-spacing:2px;[/newclass]